Crew Australia Home Toll Free 1800 686 086 gelato ice cream yoghurt custard cream pastry machines display cabinet blast freezer commercial appliance cooking catering refrigeration equipment warehouse new used rent try buy
QUALITY•PERFORMANCE•SERVICE•PRICE
Welcome in our web site, we do wish your visit an enjoyable one, above here is
informative information, find radio & music, weather, news, sports and finances.
Catering & Refrigeration Equipment Warehouse, the worlds finest machinery for
Ice Cream • Gelato • Pastry Custard Creams • Yoghurt • Granita • Slush • Coffee
Preparation-Production-Cooking-Baking-Blast Freezer-Preserve-Serve-Display
New & Used Sales Service Parts Advise & Easy Finance Solutions Rent to Own
Ask us about Ingredients, Profiting ideas & Solutions,Training & Ongoing Support.
Taste our Passion - Gustare la nostra passione
Catering & Refrigeration Equipment Warehouse (Crew Australia) specialises in Italian, European and Australian equipment & refrigeration for the ice cream, gelato shop, patisserie, food production, commercial kitchen, delicatessin and cafe. Top quality appliances for food and beverage systems, the best equipment for you to provide your customer with a final gourmet product, presentation, food display or menu.
Here in Crew Australia we offer you friendly help and intelligent ideas that will assist you to put together your plans and finances. Together with our team, we will work close with you to achieve your goals for the best results. We offer you our knowledge and expertise by recommending to you the products from our extensive range of quality equipment, maximising the benefits from each appliance.

We are here to help you to achieve your highest potential.
For you to exalt your finished products, in order for you "our customer" to be able to give your customer the final satisfaction.

From these ideas we want you to be successfuly rewarded by means of high profit margins.

Our suppliers manufacture quality products, durable, reliable & efficient in performance for all kinds of food types including our specialty Ice cream and Gelato.
We have the complete package for small or large preparation and production requirements whether your business is either for retail or factory purpose.
Gelateria, Gelato Classico, this is an traditional Italian ice cream shop,
Kiosk, Cafe, Bar, multi-kinds of food combinations display cabinets & intergraded shopfitting, the co ordination is an expression of quality, branding & the trade mark of your business.
Crew Australia we offer design and complete fitout solutions, specialising in gelato production machines, freezer display cabinets refrigeration storage preparation food & beverage, kitchen equipment & frozen treat dispencers.
We have sourced the very best brands manufactured in Italy, equipment that is durable, longlife & utmost reliable, you can depend on Crew Australia & our products for
QUALITY•PERFORMANCE•SERVICE•PRICE
Evolution, a Master Chef in a single machine!
Evolution, is your silent key partner,
creativity, impression, taste that acheives praise are the valuable sucess keys for any Chef
For any bakery, patisserie, cake shop, 5 star hotel or resort
attention from fresh homemade desserts will set you apart,
so as you are remembered by,
Evolution, the intelligent machine for sweets, savouries & ice cream
Cooks- Chills & Freezes with variable action stirrer & pre programme recipes.
Ask us how Evolution can be a Master Chef in your kitchen.
At only 61cm this compact oven fits perfectly in even the smallest of kitchens. Using the two independent oven chambers foods can be cooked in fast succession. With its elegant design, the Fornochef delivers professional results every time quickly.
Perfect for hotels, bars, clubs and fast food outlets.
SPACE EFFECTIVENESS Compacta VariO can fit everywhere; In a very little space you can produce in top health conditions all the homemade ice-cream you desire.
REASONABLE INVESTMENT Compacta VariO is economical; a complete laboratory for ice-cream production, at the price of one machine only.
ECONOMICAL OPERATION Compacta VariO has very low costs in terms of energy and water consumption; the most committing operational costs are remarkably reduced.
GREAT HYGIENE Compacta VariO always works in a closed cycle; the produced ice-cream cannot be touched by external agents and is therefore perfectly healthy.
BALANCED ICE-CREAMS Compacta VariO mixes and freezes one flavor after another; in so doing, you will get balanced ice-creams, with fats equally distributed, and "tailored" recipes.
REGULABLE PRODUCTION Compacta VariO mixes and freeze in short times; it allows to quickly enhance your production, meeting the growing sale needs.
FLEXIBLE PRODUCTION Compacta VariO can mix and freeze very small quantities of product; it can immediately meet the most diverse production needs, even during low season.
ALWAYS FRESH ICE-CREAM Compacta VariO means that your ice-cream will be always fresh. Every day you can integrate the ice-cream that, was left mixing and pasteurizing it, and then freeze it with the new production being made in the machine.
ERGONOMICS Compacta VariO is not physically tiring to operate: the loading hopper is at hand's reach, in the fornt of the machine, therefore they can be easily cleaned and inspected.
AUTONOMY & HARMONY These 10 points of attention show how the Compacta VariO is able –alone- to carry out the whole production cycle: that is, to produce all the ice-cream you need. Conversely, Compacta VariO is not only an independent machine; it can positively integrate with other traditional machines, supporting and helping their operations, in order to achieve a top class homemade ice-cream laboratory.
Serve up mountains of fresh & creamy whipped ice cream
Boost your business & add a sweet choice menu to smash the sales
Big performance Big profits
Easy to use for a small space
Lick up the competition with quantity, quality & price
ask us for information on how you can crunch the numbers!
Electro Freeze Model CS 4
The smallest foot print with big capacities & the best performance
This reliable & durable soft serve machine produces 25 litres per hour
Construction is sturdy angle iron frame, stainless steel mix hopper,beater and freezing cylinder.
Low mix lights automatically tell operator when mix is needed.Mix Level Indicator
Precision crafted and machined to exacting standards resulting in a superior quality product, with fewer parts.Flight Beater
Finest insulating material available…no frost, no drip.
Easy pull-down handle with self closing spigot.Dispensing Head
Mix feed specially designed to maintain optimum overrun.Mix Feed
3/4 H.P. low temp compressor permits fast freeze-down and quick recovery.Refrigeration
3/4 H.P. beater drive motor for balanced strength perfect power for smooth product dispencing. Motor drive
2.5 liter, polished stainless steel, foam insulated for maximum efficiency.Freezing Cylinder
10 liter, refrigerated stainless steel, foam insulated.x Hopper
Night Switch Provides controlled refrigeration of product during night or any non-business period…reduces product deterioration.
Just plug CS 4 in to a standard 10amp power point.
The Best Soft Serve Machines, the Highest Profits
Featured Product is: Ill Carrentino - The ice cream cart!
Carrentino professional Ice-cream Carts for selling ice-cream and granite, designed as a central attraction in catering points such as: Restaurants, Ice-Cream Shops, Hotels, Shopping malls, etc. Applealing to many people and enhancing the ice-cream as a quality artisan product. The refrigerated system in the show case allows the display of ice-cream outside also in high temperatures + 35°C , does not need defrosting every day!
The outside models can go with out power for 6 - 8 hours.
We have the smart Tools for the Ice Cream Maker!
Expand on your production
grow the "Back Door" operations of your business.
You select the multiple locations, use these tools, make a contract to partner or profit share by placing your gelato in many other smart like businesses.
Market your name effectively together with your products decorate the cabinets with your design, logo & web site.
By positioning the solution of storage freezer & ventilated gelato show freezer together you illuminate all the problems associated with defrosting & handling.
The smart ice cream maker's package comes with everything you need spatulas, gelato trays, cone, dispenser, holder & scoop washer.
Maintaining the gelato show in top quality is very important, also is to keep it simple & easy with the basic principles of the front ice cream shop operations,
Care & procedures, by following these easy steps this will create much success for both business partners.
Ice-cream display cabinets

Furnishing solutions for ice-cream parlours

Chilled display cabinets for ice-cream parlours, confectionery shops and restaurants

Horizontal and vertical display fridges

B45 display cabinet for ice cream, confectionery, chocolates, cold buffet, hot buffet, bain marie units

Turnkey furnishing solutions for banks, restaurant chains, supermarkets, hotels, residential complexes

Turnkey 'Contract' furnishings
"Your Brand" Your Yoghurt Shop
Self Service Yoghurt Shop Layout
Ask us how you can turn downtime & or unused space into a
"Gold Mine"
Clomplement your business & Satisfy your customers with;
You too can have a Slim figure (560mm) with a big appetite New SL500
Super performance Slim Line Frozen Yoghurt or soft ice cream machine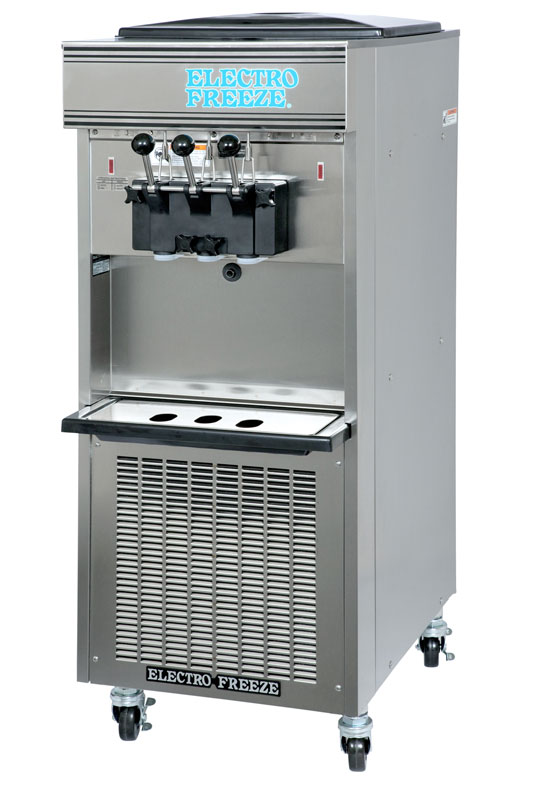 SL500
At Yogi's we use the BEST yogurt machines on the market. Yogi's Frozen Yogurt uses Electro Freeze Model SL-500 frozen yogurt machines, the BEST yogurt machines in the industry. They are much more expensive than other frozen yogurt machines, but the yogurt texture, consistency, and temperature control provided by our Electro Freeze frozen yogurt machines make an unbeatable combination in the quality and taste of the frozen yogurt we make. http://www.yogisfroyo.com/
Gravity-Fed High Capacity Twist Soft Serve Slim Line Freezer, with separate hopper refrigeration.
Add a new "Twist" to your business with this gravity fed freezer that is only 22 1/4 inches wide. Simple to clean and operate it is ideal for dispensing yogurt, soft serve, sherbet, sorbet and other frozen treats. Features single circuit with reduce power requirements.
The slim line model SL500 will dispense two separate flavors or an equal combination of both flavors. High quality frozen treats from low-fat, nonfat, sugar free ice cream to yoghurt, custard and sorbet. This exclusive Electro Freeze design is simple to operate and easy to clean. Model SL500 Dispensing Head Made of the finest insulating materials. Self closing positive displacement dispensing handles.
Freezing Cylinders Two (3.5 liter) cylinders, 11,000 Btuh compressor permits fast freeze down, quick recovery and increased production. Two 15-liters Mix Hoppers Separate hopper refrigeration maintains mix below (5°C) during auto and night mode operation. Beater Blades Durable, long wearing, nonreversible blades. Night Switch Provides safe controlled refrigeration of product during night or any nonbusiness period...reduced energy consumption...maintains product quality. Mix Level Indicator Flashing light automatically tells operator when mix is needed. Experience Tells Electro Freeze has over 75 years of experience manufacturing quality frozen treat machines. This is evident in the superior engineering, sturdy construction, quality craftsman and dependable performance of every Electro Freeze freezer.
The smallest foot print with big capacities & the best performance
This reliable & Durable soft serve machine produces 25 litres per hour 250 100ml portions
Excellent performance for any oppertunity were frozen deserts can treat your customers
while you treat your business with profits.
Ask us how you can rent to own it for arround $60.00 per week*
The Best Machines, the Highest Profits
Quality-Equipment + Ingredients + Menu System = Success
Electro Freeze FM 8 Model Soft serve Ice Cream and Yoghurt twin flavour and twist with a refrigerated topping display Serve your customers a breakfast with Yoghurt and Toppings or a dessert with Ice Cream and Toppings. If you want ideas like this one, that you can value add in to any business please just contact us
This e-mail address is being protected from spambots. You need JavaScript enabled to view it
Durable, dependable and easy to use, Electro Freeze frozen treat machines turn out the tantalizing delights that customers crave. The reliability of our equipment is the result of a tradition of industry innovation and leadership that reaches back 75 years. Today, with over 40 models of our equipment to choose from, you're sure to find an Electro Freeze model that meets your needs.
Electro Freeze equipment is durable, reliable and easy to use. But those are just whipped cream on top—because the real benefit is profit for your business.
Electro Freeze equipment delivers margins of up to 80 percent. On its own, that's an excellent return on your investment.
But we don't stop at profit potential. The Electro Freeze team is determined to help you maximize profits in every way. Our nationwide network of distributors can work with you to develop a menu of frozen treats that's most appealing to your customers. Then we'll help you promote your new items with merchandising support and training for your employees. It's all backed by the most responsive and reliable service in the industry.
Electro Freeze can help you perform a complete profit/cost analysis. Get a quick look at what your profits could be by using our profit calculator.
Why Electro Freeze?
Electro Freeze Equipment is manufactured with pride in East Moline, IL. Our designs feature simple and effective mechanical controls. The result is durable and dependable equipment that will provide years of trouble free service. Each Electro Freeze frozen treat or beverage freezer is backed by our worldwide network of distributors with prompt and courteous after sale service support.

To make a good gelato there are certain rules that are applied by most of the professional training schools. A high-quality gelato requires techniques that go beyond the norm. gelAteneo trains its students to understand these important concepts from the beginning, and then illustrates how to push the limits of what is possible.
"hello, here is my very own ice cream shop"
Coldelite Compacta & Fb Bocchini Andromeda composition,
a smart investment, & an ingenious idea for a Gelato Kiosk.
The compact solution solves all the issues, for a very small space, limited power & water supply. The gelato production is very high quality producing large capacities in fast batch cycle times. Important is the smart planning as is also to achieve the total investment value within an easy reach.
Coldilite Compacta Vario & Fb Bocchini Andromeda
Together, they are unlimited & powerful professional tools, to animate the space as to create the gelato show & the gelato experience.
Your brand name, this is your story, served fresh in the cup!
Artisan Gelato - home - handmade ice cream
Gelato is a very successful business on its own!
Turn your small space into a business success.
Typical investment amount more or less of $95,000.00+Gst,
Space of 12 m² more or less with required services for power, water & drainage.
A little more space & investment a patisserie, espresso cafe with seating can be optional.
On your side there are registration requirements, commitment & pre approval responsibilities,
this would set up the entire shop fittings & supplied is every equipment required from the cash register to the sink.
Available is information for before you start, how to implement
Gelato ingredients, shop training, know how do's & don'ts with ongoing support.
Our purpose is to bring your dream to a successful reality!
In 2003, H.C. Duke was purchased by the

Ali Group

, a company with 100 years of engineering heritage and tradition. Today, the Ali Group is more committed than ever to expanding the Electro Freeze tradition of innovation, dependability and profits for all our customers.
Gelato Classico
The TURBOMIX is a blender for the preparation of ice-cream mixes and an indispensable asset in any ice-cream parlor. It consists of a vertical, countertop structure, a drive shaft and two different mixing heads. It has a powerful variable-speed motor capable of 3,000 - 12,000 revolutions per minute.
The TURBOMIX is capable of either free or controlled vertical and oscillatory motion.
Cream Mixing Head to completely blend rich and fatty components in the cream base.
Fruit Mixing Head to finely chop and blend pureed fruit, rich with fiber, throughout the base mix.
Cutter or rotating blender to chop even the largest pieces of fruit.
The Turbomix is started with the secure placement of both hands on the machine.
The ideal stirrer for breaking up classic pastry cream, which may be oily or dense and sugary, into the base mix. The high-speed rotation and shape of the rotor facilitate the speedy emulsification of the pastries, bringing out hte best fragrance and creamiest flavour.
Ideal for chopping and mixing pieces of fresh or frozen fruit and blending fruit puree into the base. Useful for mixing powders, such as sugars and cold stabilizers, to prepare water-based mixes.
A rotary blender able to chop significantly large pieces of fruit, such as whole pears and apples. It works perfectly when used with emulsifiers to transform blended fruit into a fine, easy-to-mix puree.
To blend and emulsify classic pastries into the base mix approximately 30 seconds for 5 litres. To produce a complete perfectly emulsified mix from single ingredients, approximately 2 minutes for 5 litres.
MANTEMATIC KEL
Mantecatore, Mantematic, Batch Freezer, ice cream churn,
1) Insulated door to avoid the phenomenon of crystallisation air
2) Built-in heater to provide hot water for cleaning.
3) Wide import mix for easy passage of large pieces of fruit or nuts.
4) Electronic control panel with the possibility of the hardness of ice cream.
Features
Beater
Spigot
Shower
Tray
Height-adjustable tray shelf with non-slip mat.
65° C for milk/cream mixes

90° C for milk/cocoa mixes
After heating, each mix remains at a high temperature for the time required to complete the sanitization process, and is then cooled quickly and brought to a temperature of +4° C; an acoustic and visual alarm indicates that the cycle is complete. The machine then switches into a storage phase. The model with two tanks works in sequence and consumption is lower than two single pasteurizers.
The special shape of the beaters and the pump (where present).

The shape of the beaters also allows the ice-cream to be removed quickly and easily.
Overnight storage of the mix in the tanks at the ideal temperature for hygiene.

Gear pumps are used in models where pumps are provided.

Ice-cream production cylinder with direct expansion cooling.

Specially designed stirrer to improve yield and ice-cream dispensing.

On free-standing models (503EG - 503EP - 503P Super) rear wheels are fixed while front wheels swivel with stop for easier transfer and positioning.

Insulating hatch with piston valves for total ejection of ice-cream.

Warning light for mixture level in tank.

Electronic control of ice-cream consistency (H.O.T.) and diagnostic.
Alarm and blackout management